A History of Film Exhibition in Watauga County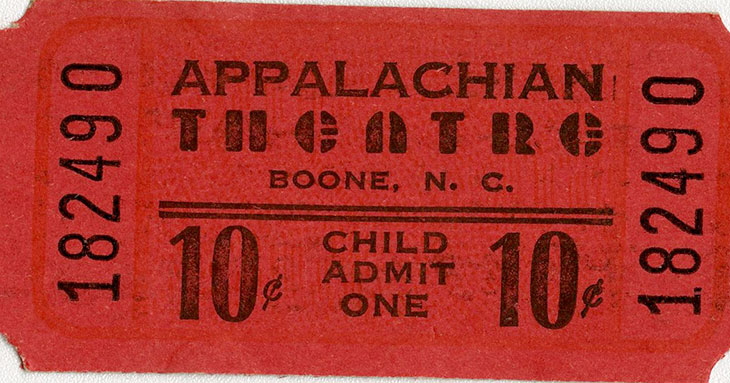 Although remote and difficult to travel through for much of the early 20th century, Watauga County has a surprisingly varied and rich history of film exhibition. The first real theater in the county was the Wonderland in Blowing Rock, built for Mayview residents in 1922. Other buildings had been used for film exhibition from at least 1905, especially the Watauga County Courthouse, and there was also a "theater" of sorts in Shulls Mills from 1918–1920. But the Wonderland was the first building intended solely for film exhibition. Like all theaters and many businesses in Blowing Rock, the Wonderland was seasonal, opening in late spring and closing before the onset of colder weather in the fall. Similar seasonal theaters followed: the Carolina, built in 1928, and the Yonahlossee Theatre in 1938. After a successful run of several decades, the Yonahlossee closed in 1979.
In Boone, the Pastime Theatre and its successor, the Appalachian Theatre, were the first year-round venues for film exhibition in the county. The Pastime dominated Boone film exhibition for 14 years until it was replaced by the larger Appalachian in 1938. Both theaters were operated by the same company for two decades, before the Pastime was converted to office space in 1960. A third theater joined the town venues in the spring of 1950: the Sky-Vu Drive-In, the only drive-in movie theater in the county. It closed around 1967, just before the opening of two additional theaters: the Flick (1971) and the Chalet (1972). Most of these theaters have either been demolished or converted into space for businesses, with one shining exception: the Appalachian Theatre, currently being renovated and scheduled to open in fall 2019.
Dr. Gary R. Boye
Music Librarian and Professor
Appalachian State University
boyegr@appstate.edu