Call for Submissions - RECAPP 2020
The Office of Research, The Office of Student Research, and University Libraries are excited to virtually host the second annual Research and Creative Activity at Appalachian event during the week of September 14 - 18, 2020.
This event celebrates all research, scholarship, and creative endeavors - funded and unfunded - of Appalachian Faculty and Staff. The event will be comprised of virtual sessions held synchronously and asynchronously throughout the week, culminating in a live zoom-cast awards ceremony for the Chancellor's and Provost's Awards for Excellence in Research, Scholarship, and Creative Activity, followed by an informal Q&A with award recipients. Faculty and staff will present digital posters, oral presentations, art, and/or performances.
All presentations will take place throughout the week of Sept 14 - 18, 2020. Presenters will have the option for a moderated Q&A session along with their presentation (there will be a limited amount of these) or you may choose to upload a brief video introducing or providing commentary on your work. More details about these options will be provided upon notification of selection.
○ Digital Poster
○ Art Piece
○ Oral Presentation
○ Virtual Performance (all performances must be recorded to ensure optimal viewing experience)
Please submit your research, scholarship and/or creative endeavor abstract or information to be part of this event!
Presentations will be chosen to display a wide range of different topics and disciplines.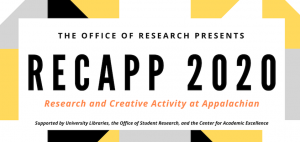 Tags: